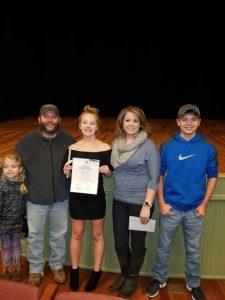 Information About Yourself:
I have been with my husband, Kam since high school & we have been married for almost 20 years.

We have 3 kids- Kalista graduated in 2021, Kaileb a sophomore, & Kenley a 4th grader.

We live on our Heritage farm outside of Toledo.

My husband farms his family's heritage and century farms and raises cattle.

I have been teaching for 15 years (7 at The Iowa Juvenile Home & 8 at EM).

I love to craft including acrylic painting, crocheting, and making decor from barn wood.  
Interesting Fact:
A descendent of my family got into a fistfight with a boy named Marion Morrison who later became known as John "The Duke" Wayne.