My name is Ashley Holloway and I am a 3rd grade teacher at East Marshall Elementary. I graduated from Iowa State University with endorsements in Reading, Language Arts, and Social Studies and a minor in Child, Adult, and Family Services. I live in Marshalltown with my husband and three children, who also attend the East Marshall School District. We enjoy spending time together outdoors, fishing, swimming, and walking our dogs during the summer time. I am proud to be a part of the East Marshall Community, and I enjoy helping my students become successful individuals!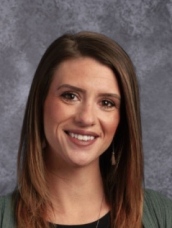 Mrs. Maday
Hi my name is Mrs. Maday. I graduated from UNI in May of 2019. Go Panthers! I am married and have a son named Nash and a dog named Max. In my free time, I love spending time with my family!
Mrs. Chantland
My name is Mary Chantland. I have a bachelor of science in elementary education from Metropolitan State University in St. Paul, Minnesota.I have lived in Minnesota my whole life (until this summer) and taught 1st and 2nd grade in Minneapolis and St. Paul for the last 7 years. This summer we packed up our house in Minneapolis and moved to Marshalltown for a complete lifestyle change.I love outdoors activities, learning new things, and watching documentaries. This will be my first year teaching at East Marshall and I am so excited to be part of the East Marshall community and getting to know the students and families.