My name is Karen Benzing. My husband, of 35 years, and I have 1 daughter and 4 sons, including a set of triplets. All 5 children are East Marshall Graduates! We have 5 grandchildren. This is my 17th year teaching music. I love to sing harmony!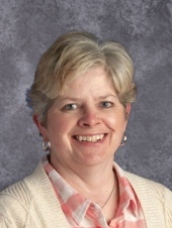 My name is Mr. Burns and I have been teaching at East Marshall for 16 years. My wife Mandy and I have three children that attend East Marshall. We live on an acreage between Gilman and Laurel. I enjoy being outdoors, being active, and going to my children's activities. 
Ms. Edwards
Hello! I'm Ms. Edwards, the new K-8 Art teacher for East Marshall. I graduated from UNI with a dual major in Elementary and Middle Level Education. I am now working towards earning my Art Endorsement from MCC and UNI. I have always enjoyed creating art so I am excited to share this passion with my students. I look forward to a great year!