2023-24 East Marshall School Board
| | | | |
| --- | --- | --- | --- |
| Name | Title | Started | Email |
| Andrea Terrones | School Board President | 2019 | aterrones@e-marshall.k12.ia.us |
| Elizabeth Crandon | School Board Vice President | 2017 | ecrandon@e-marshall.k12.ia.us |
| AnnDee Bloom | School Board Member | 2015 | abloom@e-marshall.k12.ia.us |
| Terri Hungerford | School Board Member | 2019 | thungerford@e-marshall.k12.ia.us |
| Holly Thomas | School Board Member | 2021 | hthomas@e-marshall.k12.ia.us |
EAST MARSHALL CSD SCHOOL BOARD RECOGNIZED FOR SERVICE LEARNING
The East Marshall School Board was recognized and was an award recipient at the Iowa Association of School Boards Annual Convention.
The recognition is for committing over 100 hours of school board leadership learning. All service learning hours are volunteer hours and focused on school board leadership development.
Congratulations East Marshall CSD School Board!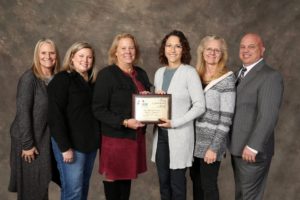 Pictured from left to right: Terri Hungerford – EM Board Member,  Elizabeth Crandon – EM Vice President, IASB President Elizabeth Brennan, Andrea Terrones – EM President, Ann Dee Bloom – EM Board Member, and Tony Ryan – EM Superintendent. Not pictured – Holly Thomas – EM Board Member.
2023-24 School Board Meeting Agendas and Minutes
2022-23 School Board Meeting Agendas and Minutes
The East Marshall Administrators, Staff, and Communities want to thank the East Marshall School Board Members for their commitment to public education. We would like to honor them for their countless hours of volunteer work; providing leadership through responsibilities ranging from strong financial stewardship to ensuring a rich and diverse curriculum, and making sure all students are prepared for a bright future when they graduate.