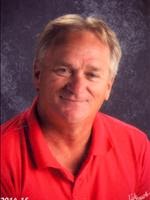 Information About Yourself: 
I have been married for 34 years with 4 children (2 girls and 2 boys) and have 3 grandchildren.

I have been in the education field for 33 years starting in LDF/LDF-SEMCO/East Marshall, then at GMG, coaching football and basketball, and then golf at GMG.

I have been teaching Ind. Tech for 22 years.

I enjoy working with my hands, being outside,  driving, officiating different sports, and playing golf, to name a few.
Interesting Fact:
I have stood in 4 states at the same t

ime.
My name is on the planet Mars.