04/26/2022
This past weekend was the true final mile marker for the school year. Every year the Junior-Senior Prom seems to be that mile marker that takes our district on to a final sprint in the school year. As one parent shared during the Promenade on Saturday, "It seems once prom arrives it is a mad sprint to graduation." Yes, we are here. Our seniors are nearing the finish line and the juniors are quickly becoming the oldest class in the district. The eighth graders will be signing up for high school classes soon and the third graders will be making a visit to the middle school in short order. It seems as if we just started the school year yesterday. Yes, we made the transition to post COVID and life is a bit different than it was in February 2020.
Our juniors and seniors celebrated in style at Prom. The dance was full of celebration and the post prom was an enjoyable success. Post prom included an Escape Room, a dodge ball tournament, laser tag, hypnotist, and a mechanical bull. In addition, there was ample amount of food and treats. We thank the parent and staff volunteers who made the weekend a success. A few pictures of the formal attire and enjoyable activities are below.
Promenade
After-prom Activities
I invite all of you to enjoy the ride as we enter into the final few weeks of the school year. It is an exciting part of the year!
As always, today is a great day to be a Mustang!
Yours in education,
Tony Ryan
Superintendent
03/22/2022
The NICL Conference annually hosts an all academic awards night for seniors. The top five scholars in each senior class is recognized at this annual event. This year's guest speaker was Dr. Ann Lebo, Executive Director of the Iowa Department of Education. Her message to the seniors was about growing up in small town Iowa and having a big city impact. The theme was to work hard and don't be afraid of dreaming big.
The East Marshall CSD NICL Academic Award recipients are Kincaid Foster, Jayleigh Pansegrau, Ellie Hull, Claudia Jacobson, and Kennedy Wheater. All five of them were honored with a NICL certificate of recognition and were formally honored at the banquet.
All Academic NICL Recipients
Congratulations to our East Marshall recipients and their parents. Good work!!!
03/18/2022
Greetings,
It is amazing that the third quarter of the school year is behind us and we are rounding the corner for the final nine weeks of school. I continue to believe East Marshall CSD students, staff, and families are second to none. There are a lot of great things occurring in our district and we continue to push forward with progress.
Roughly two years ago we were preparing to dismiss from conducting school for, what we anticipated, four weeks or so. Little did we realize what challenges were before us. As I reflect, it is the flexibility and tenacity of our community that impresses me most. We didn't have the slightest idea of how to proceed through a pandemic, however, we were able to bring things together and be one of the most progressive school districts in the state when addressing the barriers presented by the pandemic. As we recall, we quickly designed a plan to ensure every student household had an electronic devise to ensure remote connectivity. Our teachers went on high alert with beginning to train in a teaching environment that was brand new for many of us. A Return to Learn plan was drafted and utilized as a beacon during uncertain times. We learned that emotional supports are just as important as the traditional learning targets of the past norms. For a period of months, it was a scary time. However, as I reflect two years after the initial phase of the pandemic, I have realized that we have gained a lot of growth over the last twenty-four months.
During the pandemic we committed to educating our students the best way possible, even though the temptation was there to take a less rigorous route. We made a promise to reinstate extra-curricular activities, as soon as possible. We made a commitment to have a on-campus graduation for our graduating seniors. We were steadfast in doing all we were capable of doing with educating our students. Educating our students meant that our classrooms were invited into homes via Zoom. It meant our teachers managed classrooms in a way that was unfamiliar to them as professionals, placing themselves vulnerable in the professional world. It, also, meant that new experiences brought new challenges for both teachers and parents. As I reflect on the past two years, I am proud. Our families, teachers, and students did well. Our leadership team remained focused. The Return to Learn plan worked. It wasn't perfect, but it worked. I am very grateful for the RtL leadership team for the plan that they created and for the school board that supported the direction we were heading.
As we venture into the next few months we will be considering facility improvements for the school district. All voices are encouraged to participate in the discussions. On March 30th, the architect will be at Laurel Elementary to do a tour with public patrons that wish to attend and review the condition of the building. This is a rescheduled date from the earlier postponement due to weather. The tour will be from 5:00pm to 7:00pm. There will be more discussions on the facilities during the upcoming months.
The school district budget is in the best condition it has been in over the last several years. Our district is balancing a budget within the limited resources, however, we have been responsible and diligent with budgetary decisions over the last several years. Our unspent carryover budget health has doubled in the last four years and is on an upward trend-line. This trend-line has reversed itself in the last five years due to responsible, but tough, decision making. A focus on students was embraced and adjustments were made to address the trend-line patterns in an appropriate manner. Again, our school district is in a good spot financially.
The FY23 annual budget is being prepared and will be presented in the near future for official approval. Our local tax rates have remained steady over the last six years and the rate has not increased. Our district has consciously adjusted levies to pay down our current district debt on past facility projects. Over the last three years the debt has been paid down and the final payment will be made three years early. This final payment will be during FY23 and the action will save the district tax payers money. The school district has embraced a commitment to being responsible to our community members, and at the same time, fulfilling an obligation to provide a quality education to our East Marshall CSD students. During FY23 the overall tax rate will drop slightly.
Soon the state wide assessments will be underway. We request that our families provide an environment at home that will support healthy practices for the educational environment. Please visit with your student about the importance of trying his/her best on the assessments. Also, getting a good night's sleep prior to testing is important, as well. We enjoy and value the partnership in education with our families. Soon the school buildings will be sending out ISASP updates to our families.
The Conditions of Learning survey for students will be implemented during the first week of April. This is a state required survey that school districts must conduct. However, if a parent wishes to opt his/her student out of taking the survey, it is an option. The information on how to opt out, and more about the survey, was sent to parents in an email yesterday.
As many of you are aware, I truly enjoy watching our East Marshall CSD students excel in their activities. Our speech team contestants did a fantastic job during districts and state competition. The school play will be occurring next week, and our spring athletic seasons are underway. The NICL Conference All Academic Banquet for the top five scholars will be Monday evening. Last Monday evening was the East Marshall Night of Achievement for our East Marshall Honor Society. This is a night of honorable recognition for academic commitment and success. A few pictures of the ceremony are below.
East Marshall Honor Society
(New inductees in the left photo and the whole Honor Society is in the right photo.)
I wish you a fantastic weekend and enjoy the weather.
Today is a great day to be a Mustang!!!
Yours in education,
Anthony Ryan
Superintendent
03/10/2022
The end of the third quarter of the 2021-2022 school year is upon us. Wow! This year has gone by quickly. Spring extra curricular events are under way and the spring fine arts activities are in full swing.
The district is in the early stages of strategic planning for facility improvements and upgrades. FEH Architects are assisting us in the planning stages. The public has been invited to tour the inside of each school building and on March 30th the tour will be at the elementary in Laurel. We invite all of our public to visit the school if you wish to review the condition of the inside of the building. Once the building tours are complete we will move to other steps in the planning stages, which will include additional public, staff, and student input.
We are able to begin such planning because of the current finance condition of the district. Over the last few years the school district has paid off the remaining facilities construction debt from past projects early. This has saved the local tax payers money. Some of our facilities are around 100 years old and refurbishing or improved square footage is necessary to discuss when considering planning for 21st Century classrooms. Our district does want public input and desires your participation in the process. Please look for future opportunities to be involved.
On Saturday, March 11th the Speech Team students will perform at state level contests. The performances will occur at the Grinnell-Newburg High School. I had the opportunity to watch them perform on February 26th. I was very impressed and proud!
Last Monday and Tuesday evenings were the Band and Vocal Extravaganzas. The students from the middle school and high school performed their spring concerts. I am always impressed on the skills, talent, and performance of our students this time of year. It is evident to see the growth that one year can sustain. I send a congratulations to our students and instructors! A few pictures of the evening are below.
Band Extravaganza for Grades 5-12
Vocal Extravaganza for Grades 7-12
As always, today is a great day to be a Mustang!
Yours in education,
Anthony Ryan
Superintendent
02/14/2022
We are to the middle of February and spring in all that much closer! Midterm for the third quarter of school has arrived and grade notices have been sent out to parents. If you have questions or concerns about your child's grade and/or homework, I encourage you to reach out to your child's teacher(s) and communicate with him or her. Our educators are here to help.
This Friday and Monday there will be no school for students. Friday is a vacation day for both students and staff. Monday is a professional development day for certified staff. The professional development days are used to provide trainings, updates, and work time for the teachers. It is valuable time for our staff to improve professional skills and deep dive into the student data.
On February 9th the East Marshall CSD School Board met with the architect to discuss big picture facility planning. The discussion composed of reviewing a timeline and steps to plan improvements, gather public and staff input, and allow time for a bond vote, if necessary. The discussion on Feb. 9th was broad in nature and the process of making decisions was the topic of emphasis. As stated in my blog post on January 28th, the district will be buying down the current GO debt on the latest facilities upgrades. This proactive planning over the last handful of years has saved the public tax payer money. As we venture into the next couple of budgetary years the local taxes will fluctuate due to the Iowa school finance formula. If needed, the school district will plan to have a bond vote in September of 2022.
In the near future, the public will be invited to tour all three school buildings to review and observe the conditions of the school buildings. The first of the three dates will be at the middle school on Wednesday, February 23rd and will be scheduled in the late afternoon hours or early evening hours. The Community Leadership Team (CLT) will be meeting that night at the middle school, as well. The public is, also, invited to attend the CLT meeting. There are always valuable topics being discussed at the CLT meetings. We invite you to join us on February 23rd.
On Friday, February 11th there was a group of high school students who toured the Career and Technical Trades at Marshalltown Community College. This was valuable experience for our students interested in the trades for post high school learning. The tour introduced our students to machining, welding, and utility power distribution. We send a sincere thank you to our tour guides who provided a well informed tour of the facilities. This is a wonderful opportunity and it is directly in our backyard!
Welding on a Virtual Learning Machine
Winter sports seasons are wrapping up. We have four state qualifiers in wrestling. The girls' basketball played a hard fought contest last Saturday night. Our varsity boys' basketball will play tonight at 8:00pm at South Hardin. We wish both the wrestlers and basketball players the best of luck this post season.
Cheering on our Mustangs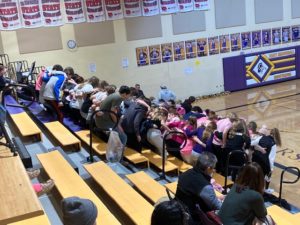 It appears we may get a day or two of a February thaw. Enjoy the warmer temperatures. Spring is right around the corner!
As always, today is a great day to be a Mustang!
Yours in education,
Anthony Ryan
Superintendent
01/28/2022
Dear Parents and Guardians,
The last couple weeks have been busy with day to day classes and mid season extra-curricular events. January is nearing and end and the cold weather months are roughly half way completed for this winter.
As we move forward into approval of our annual budget for the next school year (FY23), I want to mention a couple highlights of progress. First, our district has been diligent and strategic with planning annual budgets. The current budget condition is very stable. However, the budget is student enrollment driven and we dropped in enrollment by 26 students this past year. This will be on our radar as we plan our next budget, although we do not believe we will need to make any drastic adjustments. Our district is able to weather this recent declining enrollment scenario because of budget decisions over the past handful of years. Secondly, our district debt on facility projects is nearly 100 percent paid in-full. Over the last three years our district has adjusted levies to make early payments on debt, in turn, saving the district roughly thirty thousand dollars per year over the last couple of years. During this next annual fiscal budget the East Marshall CSD will be paying off and making the final payment on the facilities debt of the newer gym additions at the high school, as well as, the updates to the other two school buildings. As another highlight, the school related taxes have remained stable over the last five years and the district is in a responsible "cash" position. This scenario has lead the district into a situation of being able to begin planning for facility updates and improvements. The East Marshall CSD School Board has, also, contracted with FEH Architects to begin some big picture facility planning "initial" discussions. It is still very early in the process for any "specific" decision on future construction projects. As we progress forward the district will begin soliciting input from the stakeholders.
As I mentioned in the opening paragraph, we are nearing the last few weeks of winter season activities. Below are a couple pictures of the East Marshall Cross Country team being recognized for its state tournament and end of season success from last fall, as well as, the East Marshall student body at the basketball game on January 27th. The students are well into a cheer in support of our basketball teams.
East Marshall Cross Country State Performers
Student Section Cheering on Our Mustangs!
As always, today is a great day to be a Mustang!
Regards,
Anthony Ryan
Superintendent
01/19/2022
Dear Parents and Guardians,
This communication is being sent to inform you about updates on a decision for tomorrow morning's start time for school. Multiple factors are considered when making decisions related to cold weather, which may include data from raw temperature predictions, windchill temperatures, and if conditions will improve over the timeframe of the delay. In other words, will conditions improve during the time of delay?
In regards to the National Weather Service forecasts for tomorrow, East Marshall CSD will have a two hour delay for tomorrow, Thursday, January 20, 2022.
The support and partnership in education of our students, staff, parents, and patrons is appreciated.
Yours in education,
Anthony Ryan
Superintendent
01/06/2022
Dear Parents and Guardians,
Welcome back to the second semester in January 2022! We are excited for the students to return and we hope all our students and families enjoyed the winter holiday break.
We are requesting that you make sure your student(s) leave the house tomorrow morning dressed warmly, including having a hat and mittens/gloves. If you have a teenage driver, please remind your teenage driver to ensure he/she has adequate winter garments with them and within his/her car. We are now in winter months and cold weather is upon us.
The National Weather Service is forecasting wind chills in the range of -20 degrees Fahrenheit to -25 degrees Fahrenheit in the morning hours for tomorrow. The National Weather Service is indicating a Wind Chill Advisory, not a warning.
The temperature wind chill forecast at 8:00 a.m. tomorrow is very similar to the temperature wind chill forecast for 10:00 a.m. tomorrow. At this time, it is planned to begin school at normal time tomorrow, Thursday, January 6, 2022.
Thank you for your time and partnership in education. We look forward to the return of students and the beginning of a fantastic second semester.
Yours in education,
Anthony Ryan
Superintendent
12/22/2021
Dear East Marshall Parents and Guardians,
This past week our school district staff has had an increase in illnesses and substitutes have been difficult to secure due to the limited number of substitutes available on the call list. The challenge of illnesses among staff and the situation of limited substitutes available has caused a recent shortcoming of proper coverage within the classrooms and academic environment.
Today we had several staff absent from work and tomorrow poses a more challenging scenario with having enough staff to cover the day. Again, this is mainly due to illnesses within the school buildings.
School tomorrow (Thursday, December 23, 2021) is cancelled due to illnesses and lack of available substitutes. It is realized that this is not ideal and our intent is to provide this decision to our parents and staff as soon as possible. We encourage our families to do their best with staying healthy over winter break and we look forward to a healthy return in January.
We wish all of our East Marshall families a festive and healthy winter holiday season. Thank you for your understanding, support, and partnership in education. Happy New Year and enjoy the winter break.
Yours in education,
Tony Ryan
12/17/2021
The East Marshall CSD had a successful week this week. We appreciate the flexibility of our families, staff, and students. In addition, we wish to extend a very supportive thank you to our Marshall County Sheriff's Department. Their support and presence provides a sense of community and collaboration.
A few pictures of a successful Friday in the school buildings!!!
On Friday, December 17th the East Marshall Board of Education provided breakfast for the East Marshall staff. It was a nice treat and gesture during the winter festive season. Treats were enjoyed by all!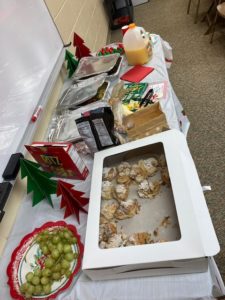 12/14/2021
East Marshall CSD will dismiss at 1:20pm on Wednesday, Dec. 15, 2021. This is a change to the original schedule.
12/13/2021
There has been a whirlwind of activity the last few weeks. Our school district has been busy with winter holiday concerts and programs, winter extra-curricular activities, typical school days of academics, and several meetings. Our winter holiday concerts were a huge success. We wish to thank all of our parents, families, and our staff for making the concerts very special. There is always an excitement within the students at all levels on nights of the concerts. I am always impressed with the performances and the collective talents that we have as a student body. The weeks of hard work is displayed in full force. The individual skill sets and confidence within the students always inspires me. The energies of the night are unmatched!
It is a busy time of the school year and the academic calendar during the months of November and December are always shortened. Semester tests for the high school are nearing and the energy level of the students in the elementary and middle school are a strong sign that winter holiday break is nearing. This is always an exciting time of the school year. It is, also, the time of year that can be a little overwhelming for kids and adults. We remind our parents to check his/her child's grades on JMC during this time of year so missing homework is not overlooked and there are no surprises when grades are finalized for the semester. We are so close to winter break and we encourage our students not to lose focus the final few days of the semester.
Winter weather is upon us. As we have done in the past, we will use the School Alerts system as the first notification to go out to parents, staff, and the public for any school cancelations, delays, or early outs. All patrons are invited to sign up for the text and email notification services at the following website. The link is listed below and it can be found on the East Marshall School District website. The School Alerts system is the first notice to be sent out when a decision is made to adjust schedules.
https://public.govdelivery.com/accounts/IAEDU1968/subscriber/new?qsp=CODE_RED
At the Regular Monthly Board meeting in December the retiring board closed official business of the retiring school board. In addition, the final canvas of the November 2021 school board election was accepted and approved. Holly Thomas is a newly elected school board member and Elizabeth Crandon was re-elected as an incumbent. Each took her oath of office at the Organizational Meeting. Craig Mommer is a retiring school board member after serving six years as a school board member. We thank Mr. Mommer for his volunteer hours over the last six years.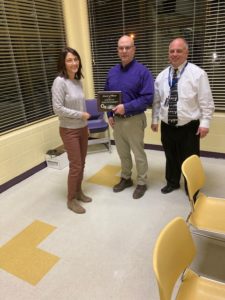 Retiring School Board Member Craig Mommer
Board President Andrea Terrones presents Mr. Mommer with a recognition of
service plaque for his dedication of six years to the East Marshall School Board.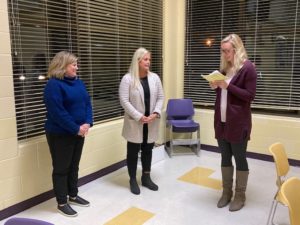 Newly Elected Board Member Holly Thomas and Incumbent Board Member Elizabeth Crandon
Newly elected board member, Holly Thomas, and incumbent board member, Elizabeth Crandon,
take the oath of office at the December Reorganizational meeting.
Board President, Andrea Terrones, and Vice President, Elizabeth Crandon, take the
oath of office at the December Reoganizational School Board Meeting.
12/1/2021
Dear East Marshall Supporter,
Currently, the power at Laurel Elementary is down due to a neighborhood power line disruption. Alliant Energy is estimating that the power will be restored by noon today.
The phone lines at Laurel Elementary are currently disrupted, as well. If you need to contact the Laurel Elementary Office please call the East Marshall District Office at 641-498-7481. The district office will contact the elementary with any necessary messages.
At this time, we currently have a scheduled dismissal time of 2:20pm today.
Thank you for your patience as we work through the short-term power disruption.
Yours in education,
Anthony Ryan
Superintendent
12/1/2021
Dear East Marshall CSD Supporter,
This information is being shared to update you on an occurrence at our middle school today. An employee of the school system passed out during the school day at the middle school, an ambulance was called, the employee's family was notified, and the situation was approached with established protocols. The staff member was stabilized prior to transport.
We extend a sincere thank you to the Gilman Fire & Rescue and Unity Point Ambulance Service for their prompt response and services.
Respectfully,
Anthony Ryan
Superintendent
11/23/2021
NICL Band Festival 2021
It has been a busy past couple of weeks. We were host to the annual NICL Band Festival and it was a huge success. Skilled student musicians from across the conference gathered as one large group. They practiced all day and performed in the evening. Our guest conductors did a fantastic job and our very own Mr. DeFields did a tremendous job organizing the event.
Honor Cheer Representatives
Three senior cheer squad members attended honor cheer and performed during the state football championships. Our cheer members work very hard throughout the seasons and are always there to lead Mustang spirit. we are proud of our cheer members representing East Marshall at honor cheer. Great work!!!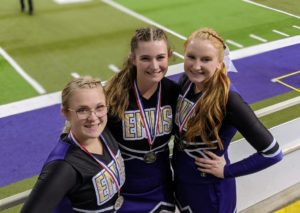 Attendees at Iowa Association of School Boards' Annual Convention
School board members learn too! Two of our current school board members attended the Iowa Association of School Boards' Annual Convention this past week. School Board members volunteer their time and services to help lead and guide our school district. The board members must take time out of their professional work day to attend such conferences. Learning and growth is essential for all of us. Thank you to our school board members who devote their time for the betterment of East Marshall CSD!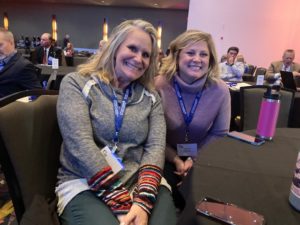 We wish all of our East Marshall families a happy Thanksgiving and safe travels during the festive weekend. One thing we have learned over the last 18 months is not to take time together for granted. Enjoy the next few days with family and friends!
11/11/2021
Bus number 12-14, Craig Rhoads' bus, will be running roughly 30 minutes behind this afternoon. The bus had a mechanical issue and a different bus will be transporting the students.
11/6/2021
This past week was very busy with parent teacher conferences, state cross country meet, classroom instruction, and the fall musical. We congratulate our cross country runners for their excellent showing at the state tournament. All competition at the state tournament is of excellent quality and our East Marshall athletes have many reasons to be proud.
Our teachers and staff continue to do what they do best, meeting the needs of our students. Teachers continue to provide instruction, review learning data, and adjust our sails to meet our students and their needs at where they are. Our teachers and staff are wonderful at believing in our students. The professional field of education is challenging, however, our teachers are the best of the best and they are here to serve.
This weekend is the fall high school musical. I look forward every fall and spring to attend the fine arts performances. Our high school performers display such talent and confidence during these performances. The musicals and plays are times that I continue to be impressed. The confidence and excitement within our student performers are hard to describe. It is such a positive experience and I am always so very proud of our cast of students and their instructors. The hard work that they all put into a performance always works out to be a fine tuned theatrical showcase. Great work East Marshall CSD performers! Below are a couple pictures of the cast. (It is always a challenge for me and the camera at these events.)
Yours in education,
Tony Ryan
10/29/2021
Dear East Marshall Parents and Guardians,
This is a reminder email that there is a change in the regular routine for this coming week.
Monday, Tuesday, and Thursday of next week will be early dismissals at 2:20pm due to the parent-teacher conferences. Conferences will be held at the high school on Monday and Tuesday. At the elementary, parent-teacher conferences will be on Tuesday and Thursday. Wednesday and Friday of next week will be full school days.
Also, we encourage all parents at the elementary and high school to sign up for a parent-teacher conference time for his/her child. At all age level of students, parent-teacher conference times are valuable for the parent, student, and teacher. We have a committed structure of times set aside for these meetings and have early outs scheduled as an investment in the process. If you have not received an invitation and notice about your child's conferences, please reach out to the school principal's office. Our commitment as a district is to meet with every parent.
Please reach out to your building principal's office if you have questions.
Thank you for your support and teaming with us as partners in education.
Regards,
Tony Ryan
Superintendent
10/25/2021
Congratulations to all of the cross country runners. It was a great meet to watch and see you all do so well!!!
(These photos will be posted on this blog for a couple days so parents may download them, if they wish. The blog page will be reorganized in a few days.)

10/19/2021
Parent-teacher conferences were held this week at the middle school. These meetings are valuable for the student, parent, and teacher. It is a semi-formal way to connect with each other as partners in education. One of our priorities during parent-teacher conference week is to connect with each parent. The conferences in the elementary and high school will be during the first week in November. If you haven't heard from your child's teacher, please reach out to the principal's office.
The Iowa Youth Survey will be given in grades 6, 8, and 11 within the next few days. Taking the survey is strictly voluntary, however, the school needs parents to send back the signed document indicating that they do not wish to have their child participate. The document was emailed to parents October 1st.
Individual ISASP state assessment scores will be provided to parents in the near future. The scores are from the ISASP assessments taken last spring. Please reach out to a school official if you have questions about the individual student data or about the ISASP in general. We are here to help.
The fall 2021 sports seasons are wrapping up. Last Friday night and last night were the final varsity football and volleyball contests for the season. This Thursday the cross country runners will compete in the first round of post season meets. We are proud of our student athletes and how committed they are to continued progress.
I would like to take a moment to thank the many volunteers we had this fall working in the concession stands. The concession stands provide snacks and food for those in attendance. The revenues from the concession stands help fund the extra-curricular events and programs throughout the school year. We could not have done it without our volunteers and we appreciate all those who volunteered this fall.
A couple pictures of a few of the volunteer concession stand workers.
As always, today is a great day to be a Mustang!
Best regards,
Tony Ryan
Superintendent
10/12/2021
This is a public notice about an accident that involved one of the East Marshall CSD school buses. The accident occurred at roughly 3:30pm on Tuesday, Oct. 12, 2021.
The accident occurred two miles north of Gilman on Hwy 146. The accident was a two vehicle accident. A car heading northbound rear ended the northbound school bus that was stopped at a bus stop. The students on the bus were transferred to another bus for transport home. Three students were consulted for reports of minor injuries and released to their parents. The driver of the car was the only passenger in the automobile.
Paramedics and Gilman Fire and Rescue were called to the scene.
We extend a sincere thank you to the EMS departments involved in the response.
10/8/2021
It has been a busy week for staff. We began this past week with an all day professional development day for certified staff. The survey results from the Pass the Love survey were reviewed, considered, and discussed. At the next session that we meet with the Pass the Love representative, we will discuss the next steps and direction we go with the data. We appreciate the funds our SEAL student group provided to secure this opportunity.
The principals and I attended a professional development day on Tuesday and attended a training at School Administrators of Iowa. We focused on honing our skills as instructional leaders, communicating with staff about instructional growth and culture, and adding tools to our professional tool box. The session was an experience that would rate at the top of the list. We were anxious to implement the learning in our specific school buildings.
Tuesday through Friday were full student academic days for our students and staff. Instructional leadership is one of the top responsibilities we assume as school administrators. Assuming my obligation in this role, I committed some time this week to visit and connect in the classrooms as a district administrator. We have the best students and staff in the state! There is something to be said about our students and their buy-in of Mustang STRONG.
Below are two pictures that show what our teachers are all about. Building relationships with kids.
The pictures show what we do best! Connections with each other!!!
Mrs. Dobson and the 9th grade English class having interaction about their current study of literature and how it relates to them as they work through a personal reflection.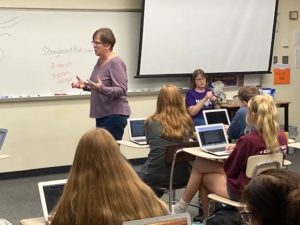 Mr. Ronan spending some time with his cross country athletes.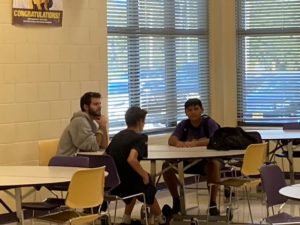 Enjoy the weekend!
10/2/2021
The pandemic and COVID19 continues to be on our radar. We applaud our students and staff for continuing to embrace the mitigation strategies. Our current attendance rates are stable around 96% to 97% daily attendance. We are working hard to keep this trend. Each Friday the weekly COVID19 Dashboard for East Marshall CSD will be updated. The link can be found here.
Academics and learning is in full swing throughout the school district. Soon, parents will be notified of their child's individual ISASP assessment results from last spring. Once the data is organized and review the information will be sent out to parents. For this initial year, the reports will be hard copies and mailed to parents in the USPS mail. There will be an additional pamphlet in the mailing that explains how to interpret the results. The pamphlet breaks down the details and provides some insight for parents. In addition, school staff will are always willing to assist in explaining the results. As your child's educator, we are here as a resource and service.
This past week was a very important week for the fiscal health of our school district. October 1st is the official student enrollment count date for annual state funding. Over the next two weeks our district will be working through the data and filing state reports. This week's enrollment head count will fund next school year's (2022-2023) expenses. This includes employee salaries, building utilities, and typical expenses.
It has been a great start to the school year. As superintendent, I am always willing to be a resource for parents, students, and staff. Individuals may contact me by phone, email, or at an event. I am, also, willing to schedule an in-person meeting with those who wish to meet in person. I am proud to be a Mustang and value being a resource for our stakeholders.
This past week has been full of student activities. Below are some recent photos of our junior high and high school volleyball contests. I am always impressed to see how well our student athletes and coaches represent East Marshall CSD!
Junior High Volleyball (7th grade)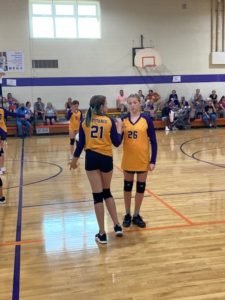 High School Volleyball (vs BCLUW)
Enjoy the beautiful weekend.
Regards,
Tony Ryan
9/25/2021
It is always a prideful moment when you see our East Marshall student groups express their talents. Below are a few pictures of the Oktember Fest parade. The band sounded fabulous and displayed a class act performance while representing East Marshall CSD. GREAT WORK Mr. DeFields and the Mustang Marching Band!

9/24/2021
We concluded another great week at East Marshall CSD. I wish to extend a Tip of the Hat to our school nurses for arranging for the annual optional flu shot clinic and the optional COVID19 vaccine clinic. We appreciate all that our school nurses do today and every day!
Our weekly absence rate is ending the week at 96.5% attendance rate district wide. This is a very strong number and we need to work hard at maintaining this direction. The students and staff are doing a wonderful job with mitigation strategies.
I arranged my schedule for today so I could have lunch at the middle school. Our kids continue to work hard at being Mustang STRONG. The food was exceptional and the company was even better! Below is a snapshot of my table mates for today.
Middle School Lunch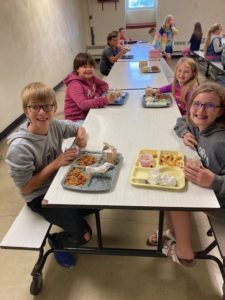 Middle School Random Photo Shots
Enjoy the beautiful weekend.
Regards,
Tony Ryan
9/22/2021
Sept. 22, 2021
Dear East Marshall Parents and Guardians,
This letter is being sent to you to inform you of recent updates to our mitigation strategies and this information is specifically about the wearing of masks on school property and events.
We are all aware of the recent attention on the topics of mandatory masks. On September 20, 2021 the East Marshall CSD Board of Education met and discussed this topic during their regular monthly meeting.
One of our main priorities at East Marshall CSD is to foster a safe and conducive environment for all students and staff. With this in mind, we respect the passionate positions that individuals may have in regards to the topic of masks.
The East Marshall CSD Board of Education and school officials have taken time to consider data, health care professional recommendations that includes guidance from the IDPH, and public comments. After in-depth consideration the East Marshall CSD Board of Education made a determination to utilize the spirit of the IDPH general guidance for all illnesses. This guidance, generally speaking, uses the measure of ten percent absence rate related to illness prior to reporting to the IDPH.
Moving forward, the East Marshall CSD will implement the following protocols in relations to making the wearing of masks mandatory. When an individual school building reaches ten percent (10%) absence related to illness the wearing of masks by students, staff, and visitors will be required in that specific building. This expectation will be lifted when the data of absences for illness falls below 10% for fourteen consecutive (14) calendar days. This expectation will be implemented for visitors and spectators of extra-curricular contests, as well.
This process has been implemented immediately. Please have masks ready for your student(s) in the event the school sends notice home to parents that the 10% measure has been met. The school district will work hard to notify parents as soon as possible when masks will be required.
School officials realize the mandatory wearing of masks is a sensitive topic. There has been no easy decision or perfect answer while managing through COVID19. We wish to express appreciation to all of our students, staff, and parents for the positive support as we venture through another school year. Working together as partners in education we can continue to successfully perform and keep our school doors open during a pandemic, as we remarkably did during the 2020-2021 school year.
Always Mustang STRONG!
Today is a great day to be a Mustang!
Yours in education,
Anthony Ryan
Superintendent
9/17/2021
The Homecoming Coronation and pep assembly was scheduled for yesterday evening. The events have been rescheduled to halftime of the game on Friday night.
During the parade Thursday evening two of the cars transporting the king and queen candidates had an accident with each other. One of the candidates was transported to the hospital in Marshalltown. The other three court candidates had minor injuries and were released at the scene to their parents. The candidate transported to the hospital was later released yesterday evening.
The East Marshall CSD appreciates all of the support from the EMS organizations and individuals at the scene. The assistance and services is highly valued.
We look forward to continuing the coronation festivities at the football game Friday evening.
Yours in education,
Tony Ryan
9/14/2021
Today is a great day to be a Mustang! Yes, we often say this and it is true! Our students, staff, and families are the best. Below are some photos from the cross country event at South Tama CSD from last night. As I arrived I noticed an awesome showing of East Marshall supporters. There definitely was Mustang support among the crowd. Happy Homecoming week! Below are a few pictures of last night's event.
A federal judge placed a halt/pause on the state level legislative action in regards to prohibiting mandatory mask usage at Iowa schools. It becomes obvious to each of us that this topic is going to have some debate in the legal system. One may question what it means for East Marshall CSD? East Marshall will continue to monitor our situation and stats. The official kdg-12 attendance rate for last year (2020-2021) was 94.5%. On any given year this is a fantastic percentage of attendance. What does this tell us? It indicates that our mitigation strategies and commitment to mitigation strategies worked. This includes hand washing, wearing of face masks, and social distancing, as often as possible.
Our Return to Learn plan is flexible and can be adjusted at any time. East Marshall CSD will continue to monitor our absentee rates and adjust as necessary. For the short term, we will monitor and make no immediate adjustments to our mitigation practices. This includes the topic of face masks. Again, our Return to Learn plan is designed to make changes and adjustments in short order to meet the immediate needs. With fall and winter seasons right around the corner, we may have to adjust our practices to keep our students and staff healthy. Setting the attendance bar at 94.5% is something we can accomplish with some continued focus.
Photos from the cross country meet at South Tama CSD
Go Mustangs!!!
9/10/2021
This week was full of hustle throughout the school hallways. Classes are now in full swing and the high school college classes through MCC are now in full swing.
As a reminder, all students receive free lunches during the 2021-2022 school year. Students must take a full meal to receive the meal for free. Any extra items or a-la-carte items do cost and must be taken out of the student's lunch account.
Soon the state legislative session will begin and now is the time to lobby our legislators. We ask for our patrons to reach out to our state legislators and express the importance on school related topics. If patrons have questions about topics to lobby for while communicating with legislators, please reach out to me by sending an email to [email protected] Information specific to East Marshall CSD can be provided so you can share how topics specifically impact our school district. Your active participation does make a positive impact.
Mitigation practices continue to be an important part of the daily routines in the school buildings. We anticipate that late fall and winter will bring the typical challenges to keep ourselves healthy. The COVID19 challenge continues to be with us. We will monitor our data on a daily basis and adjust as necessary. The district's Return to Learn plan can be found on the district's website. It has been updated to meet the needs of the 2021-2022 school year. Masks are continued to be highly recommended.
Lunch time is a popular favorite time of day for students. It is a time for students to socially connect with each other and foster relationships. Below are two photos from our high school lunch period. Not only is the lunch period popular with students, but so is the school lunch. Our cooks do an awesome job providing delicious meals.
High School Lunch 
As always, today is a great day to be a Mustang!
Enjoy the weekend.
Regards,
Tony Ryan, superintendent
9/7/2021
Dear East Marshall CSD Parents and Guardians,
This is a public notice about an accident that involved one of the East Marshall CSD school buses. The accident occurred at roughly 4:00pm on Tuesday, Sept. 7, 2021.
The accident occurred in Ferguson on the Ferguson blacktop. The accident was a two vehicle accident. There were five students and one bus driver on the bus. The other vehicle had just the driver. No injuries occurred or reported.
The parents of the students were contacted. All of the students were released to their parents.
We extend a sincere thank you to the EMS departments involved in the response.
9/1/21
Well, September is upon us. It is hard to believe that August flew by in a whirlwind and we are in the middle of week number two for the school year. It is great that we are in regular session and activities are in full swing.
As you can see, the Superintendent's Blog is in full operations mode. I wish to thank Sarah Schutt for taking the lead in organizing the update and I wish to send a Tip of the Hat to all those who provided the troop level support of creating the webpages. It is truly spectacular and an awesome upgrade for East Marshall CSD! Go Mustangs!
Did you know???
I want to share a "Did you know?" moment about East Marshall CSD. East Marshall CSD has a fleet of well maintained buses that run a tremendous amount of miles each school day. Our school district is ranked 17th in the state for the number of miles driven and, also, 17th in the cost to operate the fleet. This includes cost of buses, fuel, salaries, and bus maintenance. The admirable part of the entire transportation fleet is our bus drivers and employees. Our drivers transport over 500 students per day over many miles of country roads and state highways. Now, think about that for a moment. 500 plus kids transported. Twice per day. Impeccable safety records? Absolutely!
A few of our East Marshall CSD finest!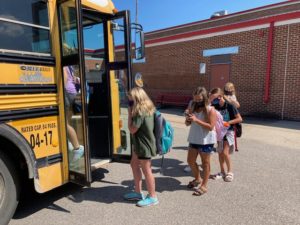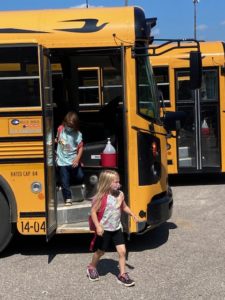 In addition, over the last handful of years the East Marshall CSD School Board has made it a priority to include air conditioning units when purchasing new school buses for our fleet. Four of the newest East Marshall buses have air conditioning rooftop units. Our district uses these buses on our main transportation routes and for extra-curricular road trips. A huge thank you to our school board for committing to forward thinking progress.
Below you can see two or our four buses with rooftop air conditioning units.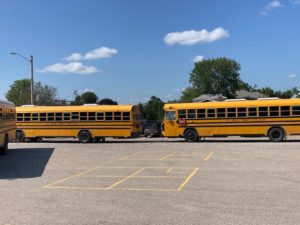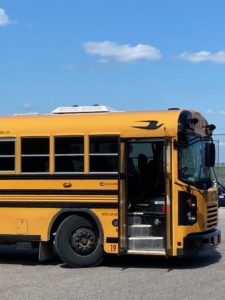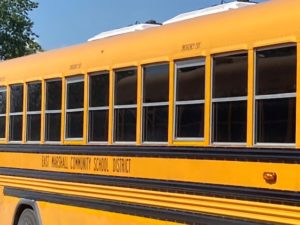 In closing for the day, we have had a great first few days of school. Our students and staff are doing awesome things in the classrooms. Mustang STRONG has truly been the theme for the start of the school year.
I plan to update this blog about two or three times per week. I invite you to revisit sometime soon.
As always, today is a great day to be a Mustang!!!
Regards,
Tony Ryan
8/23/21
Dear East Marshall CSD Supporters, 
In the event of a decision that causes the typical scheduled school day to be interrupted, such as a late start or early dismissal caused by weather-related items, the East Marshall CSD will send out a notice through Iowa School Alerts. Iowa School Alerts is the first media outlet that is contacted in an event of changes to a school day. The alert is sent out by text and email.
It is encouraged that parents sign up with Iowa School Alerts through the following link below. If you have signed up in the past you do not have to sign up again, as long as, you have never unsubscribed to the service. Any parent, student, staff member, or public patron may sign up for the alerts.
You may sign up and register at the following link.
https://public.govdelivery.com/…/IAED…/subscriber/new…
The link is also found on our district website.
It is encouraged that you sign up sooner than later. Looking ahead this week, the weather forecast indicates that we will have to monitor conditions due to the heat. The first day of school is already scheduled as a 2:20 pm early-out dismissal. Decisions for any other early out due to the heat will be made on a day-by-day basis.
In the event of an early out, we encourage families to make a plan for their child(ren) ahead of time so your family is prepared for such decision(s). Having a dismissal plan for your family will assist in a smooth and safe transition from school to home for your child(ren).
As always, feel free to reach out to your child's school building office as a resource. Again, we highly encourage parents to sign up for the School Alerts notification system.
We are looking forward to the return of students on Monday. Today is a great day to be a Mustang!
Yours in education,
Anthony Ryan
Superintendent